Annie Bhagwandin
LMP MA 00012157 and Ayurvedic Practitioner
Graduate of Seattle School Of Massage 1998,
Graduate of Kerala Ayurvedic Academy 2009
I believe that we all can find balanced health and well being through self awareness. I have found that the power of therapeutic touch provides an opening to that awareness.
I enjoy being of service.
I have four children with my life partner Omroa Bhagwandin and love living and growing here at Shady Grove in the rolling foothills of Mount Saint Helens.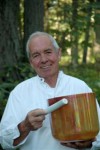 Jim F. Bacon
Jim has been described as an open channel for the healing energy of love. He brings 30+ years of dedication and self discipline in the arts of meditation, breathwork and conscious awareness. Having trained extensively with Dr. Judith Kravitz to teach Transformational Breathing (R) and to facilitate group and individual sessions, he effectively creates the "space" for participants to experience powerful breakthroughs. This course is his most recent work. He has a lifelong passion to contribute to the empowerment of others.

Sarah Kruse
Ayurvedic Practitioner, LMP, Doula

I assist clients in returning to their true nature through Ayurvedic Consultations and nurturing & rejuvenating bodywork.

I have chosen to work in the field of Ayurveda for the purpose of bringing healing and awareness to peoples lives so that they can realize their unique life path and contribute their gifts to the world we live in. It is my intention to encourage integration of all health care systems and wisdom traditions for the benefit of all.

I am a graduate of The Ayurvedic Institute in New Mexico, where I studied under Dr. Vasant Lad, and have traveled extensively throughout India, studying with renowned Ayurvedic doctors and scholars. I am also a graduate of Cortiva Institute of Massage in Seattle. I have been practicing Ayurveda since 1999 and massage since 2001.

One of my most beloved services I offer is the Pancha Karma retreat. It is a process whereby the client is supported, nurtured and guided during their profound healing journey. Ayurveda sets the stage for deep cleansing and rejuvenation on all levels of the person. It is truly an honor to witness the transformation that occurs during Pancha Karma.

My other great joy in life is caring for my daughter, Amulya. She continues to teach me about unconditional love, playfulness, patience and being fully present. What a gift!
Learn more about Sarah and her practice on our "Links" page.